2016 Rose of Tralee Orientation
Sunday, January 10th @ 12:00 pm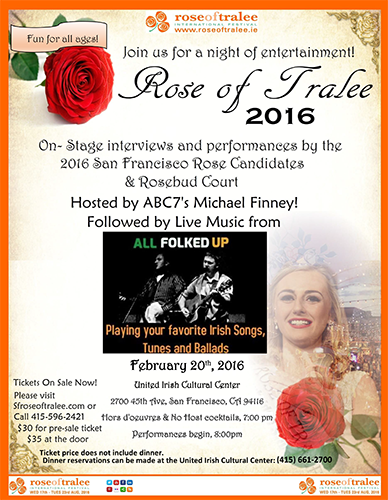 2016 Roses and Rosebuds Orientation
This is an informal event where the Rose Center team give a briefing to entrants on the format of Rose Selection and how they need to prepare.
This is also an ideal opportunity for entrants to meet and mix with each other, for the Center to meet them, and them to meet us as a team. 2015 Rose Marisa Conroy will give a brief presentation on her experience.
Rosebuds are also encouraged to come to meet the Roses, understand their role in the Selection Night, and hear a special presentation by our 2015 International Rosebud Michela Mann about her experience in Tralee as the Kerry Rose's Rosebud. Tea, coffee, and treats will be served.
THIS WILL BE THE LAST DAY TO SUBMIT OR WITHDRAW AN APPLICATION!
APPLICATIONS WILL BE AVAILABLE AT ORIENTATION FOR LAST MINUTE ENTRIES.
Related Events

     CALENDAR SPONSORED BY THE CONSULATE GENERAL OF IRELAND, SAN FRANCISCO