The Inner Triple Spiral at Brú na Bóinne (Newgrange)
Saturday, December 14th @ 2:30 pm

-

4:30 pm

$5.00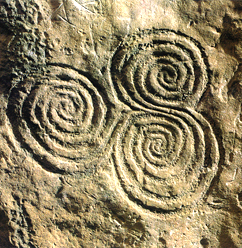 Newgrange is one of the most celebrated buildings in Ireland. Built on the River Boyne over five thousand years ago, it is older than Stonehenge and the Egyptian Pyramids. It was underground for much of that five thousand years, but the people kept its memory alive in stories about the Tuatha Dé Danaan and similar otherworldly beings. It was reconstructed in the 1960's, and is now visited by some two hundred thousand people annually.
At this time of year, in the days around the winter solstice, weather permitting, the rising sun penetrates its long passage and indirectly illuminates a triple spiral that had been carved in a prominent place in its inner chamber.
This talk explores what that symbol might have meant to its builders.
Related Events

     CALENDAR SPONSORED BY THE CONSULATE GENERAL OF IRELAND, SAN FRANCISCO