Tergis Circus presents Welcome to Tergistan
February 28 @ 8:00 am

-

10:00 pm

$25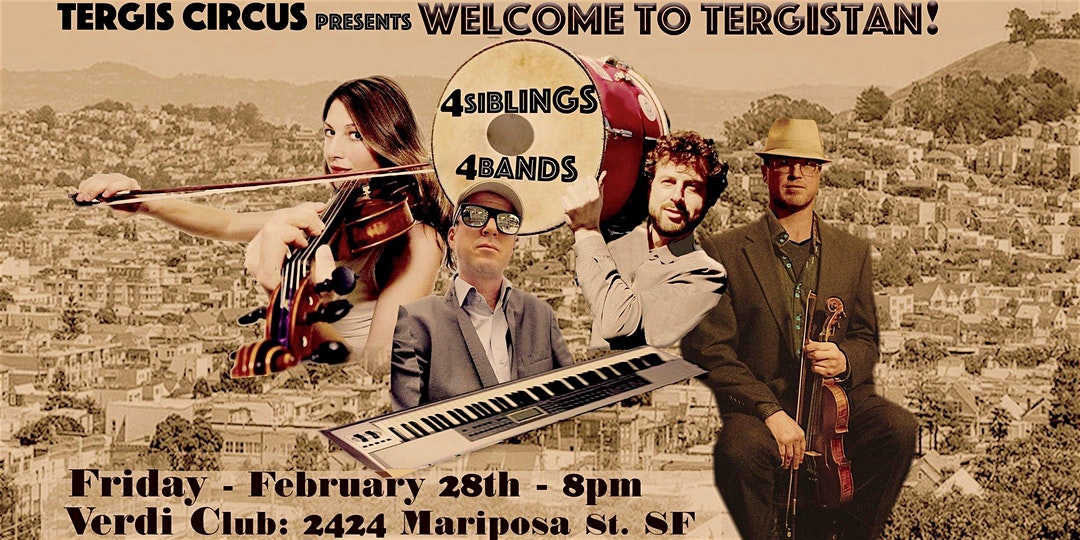 Four, Renaissance San Francisco Siblings Present
The Tergis Circus
Athena Tergis – Riverdance Alum on 5-String Fiddle, Irish traditional & original
Lars Tergis – Fiddle Turkey, Greece and beyond
Benezra Tergis – Keys, Afro-Cuban, Funk, Jazz
Sean Tergis – Percussion, Middle East,Turkey, Greece and the Balkans.
Date And Time
Fri, Feb 28, 2020, 8:00 PM
Verdi Club
2424 Mariposa St
San Francisco, CA 94110
Four world-class musical siblings raised in San Francisco in concert with their four bands for one night only. The Tergis siblings are known locally as a family indispensable to the San Francisco Bay Area music scene and reflective of its unique multiculturalism and diversity.
Family gatherings have always been lively affairs in the Tergis household with these four siblings, all playing traditional folk music from a different part of the world, encouraged and influenced by their parents, Buck and Judy Tergis, a fiddler and folk singer respectively. The eldest and only girl, Athena was named for their Greek heritage and plays traditional Irish fiddle; Lars is named after their Norwegian grandfather and spent years in Istanbul becoming a masterful Turkish Rom (gypsy) fiddler; Benezra's name represents their Sephardic Jewish heritage and he rocks on piano/keys combining Afro-Cuban/funk and jazz influences. Sean, named after the Irish side of the family, tours internationally with Balkan and Middle-Eastern folk ensembles.
Related Events

     CALENDAR SPONSORED BY THE CONSULATE GENERAL OF IRELAND, SAN FRANCISCO