Irish Language Immersion Weekend
Friday, September 25th

-

Sunday, September 27th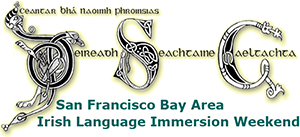 Deireadh Seachtaine Gaeltachta 2015
An Irish Language Immersion Weekend will take place at the United Irish Cultural Center the weekend of September 25–27, presenting four levels of intensive tutorials focusing on spoken language and increasing fluency. Practice Irish over breakfast, lunch, and dinner – with meals and snacks provided. Bring instruments & voices for sessions each evening, and enjoy playing music, and sharing songs, poetry, stories, and plenty of craic, as Gaeilge. There will be Saturday afternoon workshops providing a relaxing, entertaining, and different way to enjoy learning and practicing Irish.
Visit website for more information, or call 510-881-5958.
Leibhéal 1 (no Irish, or a smidgin), for absolute beginners, and those who need to review beginner basics.
Leibhéal 2 (lag), for intermediate learners: those who've studied Irish enough to know the basics reasonably well, can participate in a very simple conversation.
Leibhéal 3 (sásúil), for higher intermediate students who understand and read Irish quite well, but lack practice with hearing or speaking Irish, and seek the confidence to make that wild leap into more conversation.
Leibhéal 4 (maith), do dhaoine ar mhaith leo snas a chur ar a gcuid Gaeilge. Déanfar staidéar ar fhoclóir nua-aimseartha, saibhreas na teanga, litríocht, filíocht, béaloideas agus an saol chomh-aimseartha. Tá an t-ádh ars orainn—beidh Ray Mac Mánais againn mar múinteoir!
Course teachers are: Liam Ó Cuinneagáin, Ray Mac Mánais, Seosaimhín Nic Rabhartaigh, Bairbre Ní Chiardha (tuilleadh eolais • more info & teacher bios)
---
Related Events

     CALENDAR SPONSORED BY THE CONSULATE GENERAL OF IRELAND, SAN FRANCISCO