---
Ann Conroy Burke • The Plough and Stars, March 11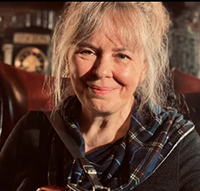 Flynn Memorial Concert * A rare opportunity to hear renowned accordion player Ann Conroy Burke in concert. A two-row button accordion player from East Galway, Anne's musical style and repertoire come from having grown up with, listened to, learned and played with some of the finest musicians and composers of her native County Galway and beyond. She has toured Europe, the US, Russia and Japan with Oisin and with her late husband, Joe Burke. Anne continues to teach at the music school that Joe and herself set up in County Galway specializing in button accordion. tickets
* Hillary Flynn was the guiding force behind the launch of the Irish American Crossroads Festival in 2004. She passed away in November 2020 following a courageous battle with cancer. Crossroads is proud to present this annual music event in Hillary's memory.
---
Green Road • UICC, March 12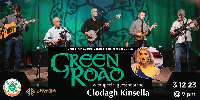 Making a stop in San Francisco on their St. Patrick's Day tour of the U.S. this musical celebration of the close connection between Ireland and America features a ballad/folk band and soloist soprano from Co. Wexford. With Green Road's Irish ballads and traditional music, infused with tones of Bluegrass and Americana, and soprano Clodagh Kinsella singing some of the best known Irish American Concert Hall standards made famous by tenor's John McCormack and Frank Patterson, audiences are in for a treat. more
---
David Nihill: We My People Tour • Bay Area Locations, March 14-16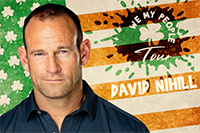 David has lived and worked in 12 countries and visited over 70. His shows draw on his wide travels, cultural observations, attempts at language study, (occasional) international drinking session(s) and being a mildly confused immigrant. He is the winner of the prestigious annual San Francisco Comedy Competition, and runner up in the Moth's largest US Grandslam storytelling competition. Mill Valley, San Francisco, San Jose dates. more
---
Colm Ó Riain • Great Star Theater, Chinatown, March 17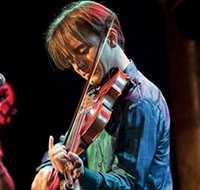 Irish-born virtuoso violinist and composer Colm Ó Riain and his Ensemble celebrate St.Patrick's Day with their soulful exploration of the connection between Ireland and a host of other musical cultures. West African percussion underpinning plaintive Middle Eastern melodies, Flamenco duende driving jazz improvisations, all topped by fiery Irish fiddling for a sparkling, modern take on this most Irish of days.
Musicians: Colm Ó Riain (violins), Geoff van Lienden (guitar), Joe Kyle, Jr (bass), Wade Peterson (percussion), Kate Brubeck (vocals) and special guests. tickets
---
Black Brothers • Freight & Salvage, March 17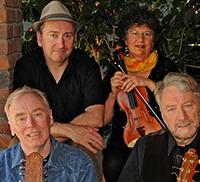 The repertoire of the Brothers is very broad and includes old Dublin street songs, stories of emigration and history, folk songs from the Irish, English and Scottish traditions, along with music from contemporary writers. Shay and Michael are close harmony singers, and they have a special fondness for songs that include their audience in chorus. The performances often include a lot of up-tempo reels and jigs, and sometimes some mighty fine dancing, which brings added excitement to every concert. Each show is interspersed with stories, jokes and humorous childhood anecdotes, so that audiences invariably leave their concerts smiling broadly and humming new choruses. tickets
---
An Evening of Irish Folk • McCarthy's, West Portal, March 18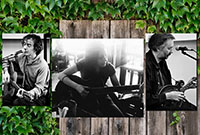 Join Erin Ruth Thompson, Kenny Somerville and Cormac Gannon for a night of Irish music.
Erin Ruth Thompson (vocals, guitar) grew up playing clarinet and writing songs on piano in Tucson, AZ. Her mother is a classical pianist and country songwriter. In college Erin performed back-up singing and keyboards for local rock bands. She also began writing songs on guitar in college. Erin arrived in San Francisco in 2012.
Kenny Somerville (banjo, guitar, mandolin, harmonica, vocals) comes from County Fermanagh and moved to San Francisco in 1993. He started out playing guitar and singing at the popular holiday destination of Bundoran, County Donegal. Kenny plays with The Gas Men, the Bay Area's own Irish gem.
Cormac Gannon (pipes, guitar, bodhran, vocals) comes from County Mayo and has lived in the Bay Area since 1991. He began playing in sessions while living in England. Cormac also plays with the Gas Men, and has the distinct pleasure of organizing events for the group. He also hosts an Irish festival every October in Fairfax, CA. more
---
Gemma Whelan • Book Reading, March 29 & 30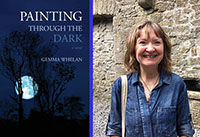 Gemma Whelan is an Irish-born director, author, and educator. She lives with her family in Portland, Oregon. Her new book "Painting Through the Dark" follows the story of feisty 21-year-old Ashling O'Leary who flees the emotional shackles of her family in Ireland and the convent where she was training to be a nun, and arrives in San Francisco in 1982 with a backpack, a judo outfit, her artist's portfolio, a three-month visa, and a determination to find a way to speak up about the abuse of girls and women in Catholic Ireland. As she becomes embroiled in a whirlwind of love, art, and deception, Ashling learns that her success as an artist and a human being depends on dealing with the ghosts of her past and speaking out on behalf of others.
Berkeley City Club 3/29 & Book Passage, San Francisco Embarcadero 3/30
---
San Francisco Scottish Fiddlers w/ Alasdair Fraser • Freight & Salvage, May 19

The San Francisco Scottish Fiddlers formed in 1983 when small group of Bay Area friends, led by acclaimed Scottish Fiddler Alasdair Fraser, gathered to play traditional and modern Scottish tunes together.
Current members are a mix of amateurs and professionals of all ages. Their one musical imperative, regardless of the tune or tradition, is never to be boring. Come share the joy as Alasdair Fraser leads the fiddlers in a concert of rousing tunes from Scotland and beyond.
Alasdair says "it's not an orchestra but an unruly, rabble-rousing, anarchistic bunch." Let the Scottish Fiddlers take you on a high-energy, family-friendly musical adventure you'll never forget! tickets
Additional concerts: May 20 (Palo Alto) May 21 (Carmel) – visit sffiddles.org/events for more information
---
MARK YOUR CALENDARS
Van Morrison • SFJAZZ Center, September 12-14
A six-time Grammy winner and 1993 inductee into the Rock & Roll Hall of Fame, Van Morrison is the definition of a living musical legend. Morrison's career as a solo artist began auspiciously with the release of the smash "Brown Eyed Girl" in 1967. The song is still Morrison's calling card and even forty years after its release remained the 4th most requested song on American radio. His other unforgettable songs have become part of the cultural fabric, including "Moondance," "Wild Night," and "Have I Told You Lately That I Love You." Morrison returns to SF for three exclusive concerts in SFJAZZ Center's Miner Auditorium. more
---
Clannad • Palace of Fine Arts, October 6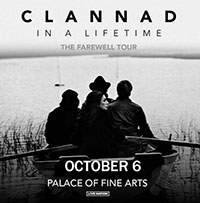 Clannad is back with their "In A Lifetime: The Farewell Tour." Clannad, formed in 1970 in Gweedore County Donegal by siblings Ciarán, Pól, and Moya Brennan and their twin uncles Noel and Pádraig Duggan. They have won numerous awards throughout their career, including a Grammy. They have recorded in six different languages and scored eight UK top 10 albums. They are widely regarded as a band that have brought Irish music and the Irish language to a wider audience, often experiencing more popularity abroad than in their native Ireland. more
---