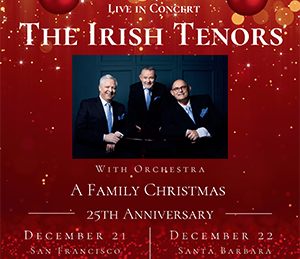 December 21 – Herbst Theater, San Francisco
December 22 – Granada Theatre, Santa Barbara
TICKETS
This extraordinary trio, consisting of the renowned Anthony Kearns, Ronan Tynan, and Declan Kelly has been captivating audiences worldwide since 1998.
Prepare to be enchanted by their powerful voices and versatile repertoire, which spans from beloved Irish classics like "Danny Boy" to beloved Christmas classics. The Irish Tenors are not just performers; they are musical storytellers, breathing new life into traditional treasures while touching the depths of emotion with every note. From sold-out shows at iconic venues to top-charting albums, their legacy is undeniable.
IRISH CULTURE BAY AREA INVITES YOU TO WIN TWO TICKETS! Email [email protected]