Traditional Irish Music Session at United Irish Cultural Center SF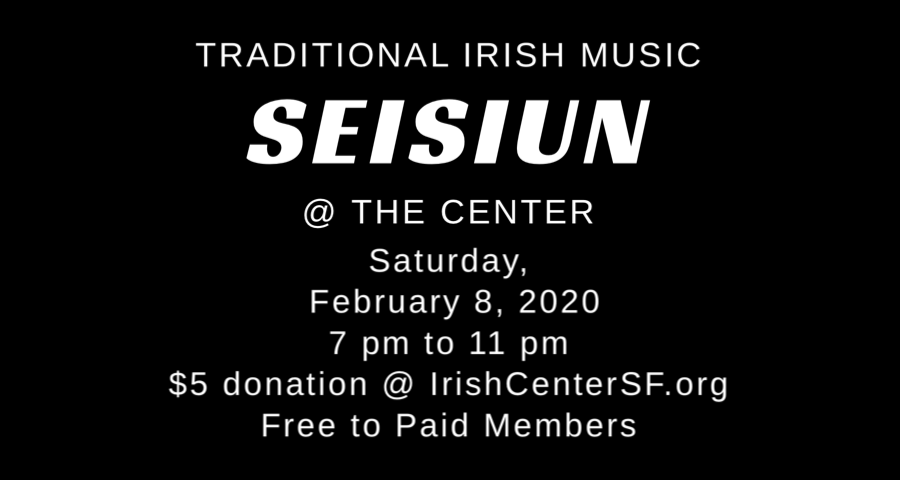 Seisiún #4 @ The Center:
Join a variety of performers in an informal setting playing inspired Traditional Irish Music at the home of all things Irish in San Francisco: The United Irish Cultural Center of San Francisco.
The musicians will be featured in the central area of the Emerald level (the old dining area) downstairs, allowing for easy viewing by all patrons, while providing comfort and space to the musicians. Seisiún #1, 2 and 3 were fab nights, so you don't want to miss this. We will have a full bar open during the event, including the best pint of Guinness in town.
This is a ticketed event, but 2019/2020 paid members of the UICC (with ticket reservation), musicians ready to play, and children through age 17 are FREE.
Non-members are $5 if they pre-purchase a ticket.
Any patron 18+ arriving at the door without a ticket or reservation will be asked to donate $10.
If you have any questions, please email comments@IrishCenterSF.org
Musicians can contact Cormac Gannon by email at cormacg@comcast.net
Related Events

     CALENDAR SPONSORED BY THE CONSULATE GENERAL OF IRELAND, SAN FRANCISCO