Sea Music Festival at Hyde Street Pier
Saturday, September 12th @ 9:30 am

-

5:00 pm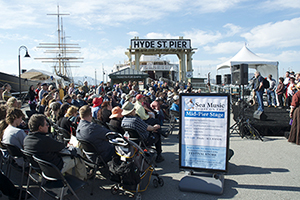 Celebrate a long-standing maritime tradition with the Sea Music Festival at Hyde Street Pier. A day of heartfelt singing and sweet instrumentals from a talented crew of local musicians and nationally-renowned performers of traditional music.
When: Saturday, September 12, 2015 from 9:30am-5:00pm.
Where: From two stages on Hyde Street Pier, and onboard the historic vessels Balclutha and Eureka.
Admission: Hyde Street Pier and Visitor Center, free. Boarding fees for the historic vessels: Adults, $5, ages 15 and under, free. Free with National Park passes. For more Information call 415-447-5000.
Performers include: Mick Moloney & Dana Lyn, The Johnson Girls, Holdstock & Macleod, Shay Black, Canciones Del Mar, American Center of Philippine Arts, Patrick Landeza, A Thousand Years At Sea, Dogwatch Nautical Band, Simon Spalding, Julie Henigan, Salty Walt, Soraya Parker, Talitha Phillips & Michael Aho, Richard Adrianowicz, Riggy Rackin, Joan Wilson Rueter, Jeremy Friedenthal, Valerie Rose, Jason Pollack & Kyle Alden, Kathy Daskal, Billy Higgins, Erin Rose Conner, Dave Nettell, Autumn Rhodes, Ed Silberman, and Stephen Canright.
Related Events

     CALENDAR SPONSORED BY THE CONSULATE GENERAL OF IRELAND, SAN FRANCISCO