Nordic Band SVER comes to Santa Cruz
January 15 @ 7:30 pm

-

10:00 pm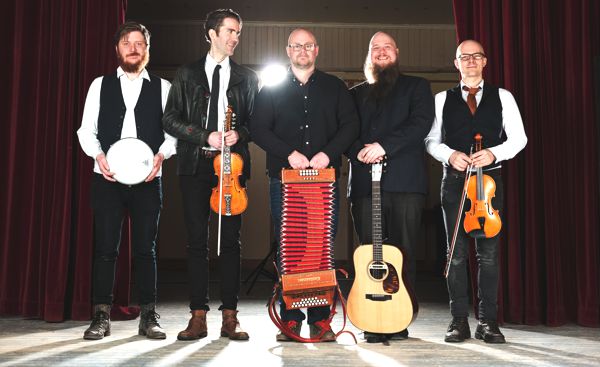 The Celtic Society of the Monterey Bay is pleased to present a concert with the exciting Nordic folk music band SVER, on Wednesday, Jan. 15, 7:30PM at Michael's On Main in Soquel.
SVER play epic Nordic folk music with relentless energy and seductive spark taking you on a fantastic musical journey guaranteed to excite you. Ranging from the very dreamy to a swinging, pounding and sweaty madness – you are invited to the party, greeted by a welcoming primal force that pulls you into the dance. Since the group's inception, SVER has gone from strength to strength, playing extensively throughout Europe and the US, gaining a reputation as one of the most acclaimed live acts in the Nordic folk scene.
SVER has often been described as "sounding electric without electricity", and their flexible musicianship has also made them an attractive backing band for some of Scandinavia's leading singers in different genres. That has led to playing on TV-shows, big festivals and positions in the radio charts with the music ranging from folk to reggae/dancehall and rap. Their imaginative soundscapes, grooves, and melodies will take you on a journey over the Norwegian fjords and mountains, into the lively pubs and back out into the deep forest of their musicality.
SVER consists of Olav Luksengård Mjelva (fiddle and Hardanger fiddle), Anders Hall (fiddle and viola), Leif Ingvar Ranøien (diatonic accordion), Adam Johansson (guitar) and Jens Linell (Drums and percussion). Olav and Leif Ingvar have played together since 2002. Vidar Berge joined the group in 2007 on guitar and together they released the self-titled album "SVER". In the spring of 2008, Anders and Jens completed the band, and they released "Fruen" in 2010. Vidar quit the band later that year and Adam joined the group. Since 2011 SVER has collaborated with the Swedish dance-hall artist Snakka San.
For more info, sights and sounds, visit http://www.sverfolk.com/en/.
Advance tickets are available online for $18 and at the door for $20. Celtic Society members receive a $2 discount. Visit www.celticsociety.org for tickets and more information. Tickets are also available in person at Michael's On Main, Main Street, Soquel.
Related Events

     CALENDAR SPONSORED BY THE CONSULATE GENERAL OF IRELAND, SAN FRANCISCO