Molly's Revenge's Winterdance in Santa Cruz
Sunday, December 8th @ 7:30 pm

-

10:00 pm

$2 – $22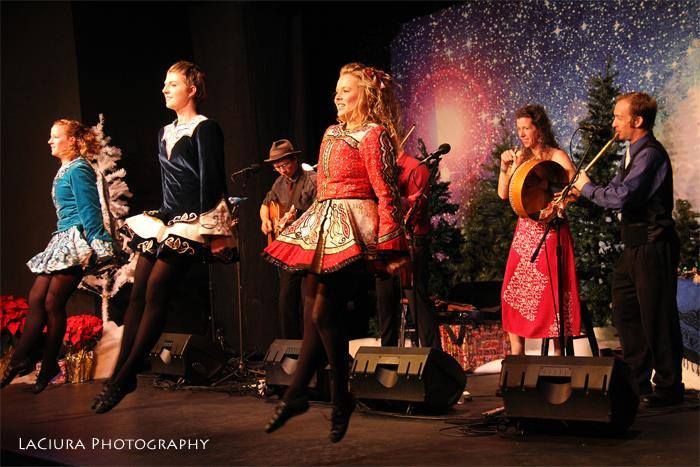 The Celtic Society of the Monterey Bay is pleased to present the 14th Annual Winterdance, an evening of festive music, song and dance performed by Molly's Revenge, with special guest vocalists and Irish dancers. The performance will include Christmas songs, old and new, all played with a Celtic twist. The performance will be on Saturday, Dec. 8, at 7:30 p.m. at the Kuumbwa Jazz Center in Santa Cruz.
The core of the Winterdance show is the dynamic Celtic trio, Molly's Revenge. This year they will be joined by guest vocalist Amelia Hogan, along with Irish dancers. As always, this Annual Celtic Christmas Celebration will capture the traditional spirit of the season and warm the hearts of all who attend.
Molly's Revenge is comprised of a trio of Californians who have dedicated their lives to Celtic music. David Brewer has been playing whistle, bodhran, and four types of bagpipes for over 20 years. He studied in Scotland at the Ceolas Music School in South Uist under the tutelage of some of the best pipers in the world. His authentic and unique style of playing has earned him the reputation of being one of the most accomplished pipers on the West Coast.
John Weed is a classically-trained violinist who switched to playing Irish fiddle about 20 years ago. John lived in Ireland in 2000 and taught fiddle workshops at the Flowing Tide International Music School in Doonbeg, County Clare. He attended the Frankie Kennedy Winter School in Dunlewey, County Donegal where he has studied with Ciaran O'Maonaigh and Dermot Mcloughlin. In recent years his fiddling has grown to include American, Quebecois, and Swedish fiddle styles.
Guitarist Stuart Mason has been collecting and performing traditional music for over 40 years. He has appeared on stage from Ireland to China performing Celtic, old-time, bluegrass, and his own compositions, which have won awards from the West Coast Songwriters Association. He also leads workshops and classes in traditional music techniques at music festivals and camps.
Guest vocalist Amelia Hogan sings traditional Irish, Scottish, British, American and contemporary folk ballads with lilting grace and subtle power. She transports you with a spell into another time and place, where the banshee wails and lovers embrace. Haunting melodies, stirring passion, and evocative storytelling are what you'll find with Amelia's music.
For more info on Molly's Revenge and Winterdance, visit https://mollysrevenge.com/.
Related Events

     CALENDAR SPONSORED BY THE CONSULATE GENERAL OF IRELAND, SAN FRANCISCO