Christmas in Ireland with Irish Tenor Emmet Cahill
Sunday, December 18th @ 2:00 pm

-

4:00 pm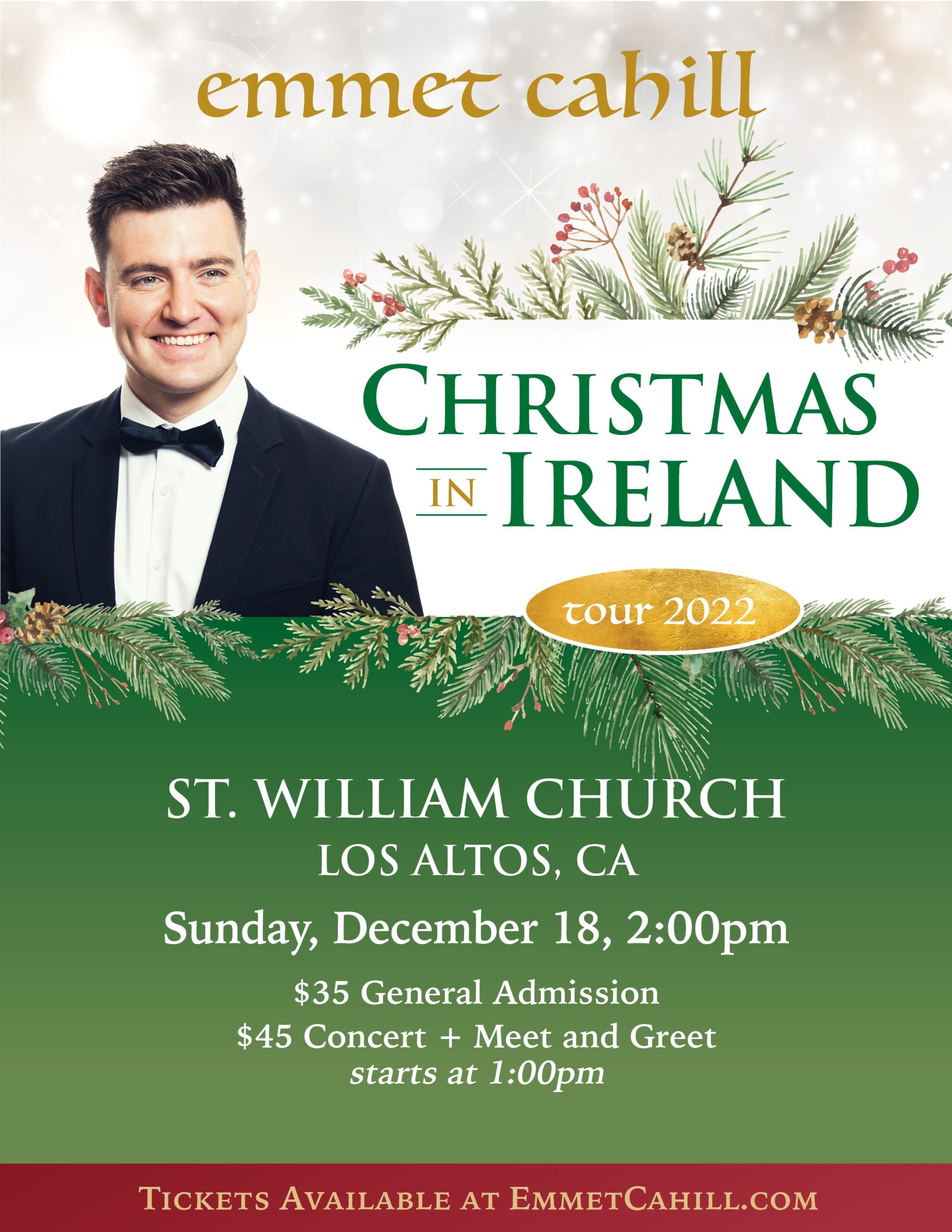 FAMED IRISH TENOR COMES TO LOS ALTOS
Emmet Cahill, an internationally known Irish Tenor and star of the Irish Music Phenomenon "Celtic Thunder" will bring his CHRISTMAS IN IRELAND  concert to St. William Catholic Church on Sunday, December 18.  This will be a celebration of his Irish roots as well as his Christmas music.
Cahill has performed with Celtic Thunder for 11 years in more than 400 shows in North America, Australia, and Canada, including many specials on PBS.  He made his solo debut at Carnegie Hall in New York in 2018 where he performed to a sold-out audience.
The 31-year-old from Mullingar,  County Westmeath, Ireland, added solo artist to his list of achievements in 2015.  He has toured in over 100 cities across North America and recorded "EMMET CAHILL'S IRELAND"  which went to number one on Billboard Magazine's World Music Album Charts.  he will be introducing his new album at this concert.
Cahill likes to perform songs and hymns that have a story of humanity in them.  "People want to feel connected to what I am doing through my songs and stories.  I talk about my life in Ireland and my life on tour.  I want to see people going away feeling like they really know me."
Also performing with Cahill will be the Greene Academy of Irish Dance Ensemble from San Jose.  The dance company is made up of boys and girls performing traditional Irish Step Dance.  Many of the dancers call Los Altos home.
Tickets are $35 for General admission and $45 for the pre-show Meet and Greet.  This is where Cahill does Q&A, poses for photos, and signs autographs.  This ticket includes admission to the Concert.  Children 12 and under are free.
St. William Church is located at 611 South El Monte Ave, Los Altos.
Pre-show Tickets are $45 at 1 pm (Meet and Greet) Concert Tickets are $35 at 2 pm
Tickets are available at:  www.emmet cahill.com
As well as at St. Nicholas Catholic Church's main office:
473 Lincoln Ave, Los Altos CA  94022
Phone: (650) 948-2158

    CALENDAR SPONSORED IN PART BY THE CONSULATE GENERAL OF IRELAND, SAN FRANCISCO