#IrelandinSF Speaker Series & Networking Breakfast -IN STANFORD!
March 6 @ 7:30 am

-

9:00 am

Free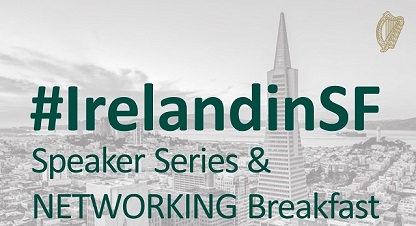 Ar an Aoine, 6 Márta, beidh ár sraith cainte agus bricfeasta #IrelandinSF ag teacht chugaibh ó Ollscoil Stanford, áit a mbeidh muid ag ceiliúradh Seachtain na Gaeilge 2020.
Please join us to on Friday, 6th of March 7:30am-9am at the D School at Stanford University, Palo Alto for our #IrelandinSF Speaker Series & Networking Breakfast as we celebrate Seachtain na Gaeilge 2020 (Irish Language Week).
Beidh an tOllamh Brian MacCraith, Uachtarán Ollscoil Chathair Bhaile Átha Cliath agus L. Reece Smyth ón Hoover Institute, Stanford, a bhí ina Chargé d'Affaires ad interim in Ambasáid Stáit Aontaithe Mheirceá in Éirinn ó 2017-2019 i mbun comhrá leis an iriseoir Caoimhe Ní Chonchoille. Bígí inár gcuideachta agus beidh deis agaibh bhur gcúpla focal a úsáid!
This event promises to be an excellent discussion in Irish and English with Professor Brian MacCraith, President of Dublin City University and L. Reece Smyth (Hoover Institute, Stanford), Mairead Brodie who is completing her STEP Masters Degree in Education at Stanford University, and moderated by journalist Caoimhe Ní Chonchoille. We hope you can join us for some great chat, fun and an opportunity to use your cúpla focal anseo i Palo Alto.
An enormous thank you to Stuart Coulson for graciously hosting this event at the Stanford d. School.
INTERESTED IN LEARNING IRISH?
DCU's free online Irish language course Irish 101: An Introduction to Irish Language and Culture will be available again from 9th March for four weeks.
Professor Brian MacCraith, President of DCU, said that 60,000 learners in 136 countries have signed up to the course. Most participants are in United States! There are more advanced modules available. Irish 105 is currently available and Irish 106 will start on 16 March.
Biographies: (those highlighted are hyperlinked to their bios)
Professor Brian MacCraith, BSc, MSc, PhD, FInstP, FSPIE, FIAE, MRIAPresident, Dublin City University
L. Reece Smyth, representing the US Department of State, is a National Security Affairs Fellow for the academic year 2019–20 at the Hoover Institution. A career member of the Senior Foreign Service, Reece served as Chargé d'Affaires ad interim at the US Embassy in Dublin from January 2017 to July 2019, where he advanced US bilateral relations with Ireland on trade, investment, and cyber security.
Mairead Brodie graduated with a BA in History and German from Trinity College Dublin in 2001 and worked in Berlin, Brussels and Edinburgh before moving to the Bay Area in 2012 where she worked in communications with nonprofits and as a writer before beginning an MA in Education at Stanford University in 2019. She currently teaches Government and Economics to high school seniors in a classroom where students speak six different home languages. She has a passion for learning languages, and especially for the promotion and advocacy of minority languages.
Caoimhe Ní Chonchoille is currently living in San Francisco while on career break from Ireland's national broadcaster, RTÉ, where she has spent over a decade working as an Irish language multimedia journalist and newsreader for Nuacht RTÉ and Nuacht TG4. She has also presented the festival programme, Féilte, on TG4. Caoimhe is from the Donegal Gaeltacht.
*DIRECTIONS TO THE STANFORD D SCHOOL*
The Stanford campus is a bit difficult to navigate, parking is hard to find, and the d.school itself is a little hidden (!) so give yourself a few extra minutes if you can.Here's how to get to the d.school by car: https://dschool.stanford.edu/contact-us#directions
If you are not driving, you can get a free shuttle bus from the Palo Alto Caltrain station – the Marguerite P Line -https://transportation.stanford.edu/marguerite/p – which will drop you at the Oval, a short walk through the Old Quad to the d.school. https://goo.gl/Vk9c5P
If you are in an Uber/Lyft, it is probably easiest to be dropped off at the Oval and walk through to the d.school.
Related Events

     CALENDAR SPONSORED BY THE CONSULATE GENERAL OF IRELAND, SAN FRANCISCO