#IrelandinSF Speaker Series & Networking Breakfast
Friday, November 8th @ 7:30 am

-

9:00 am

Free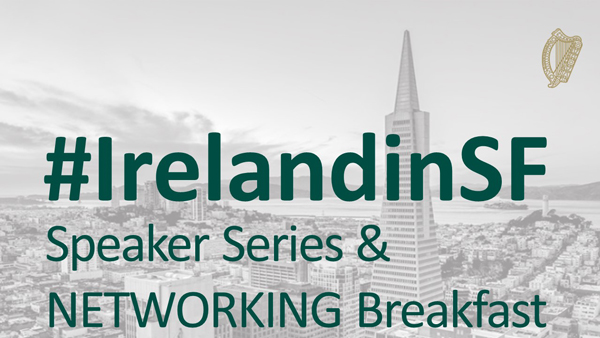 A chairde,
Please join us on Friday, November 8th at the Consulate General of Ireland, San Francisco for our #IrelandinSF Speaker Series & Networking Breakfast!
We are delighted by how this networking initiative has brought together so many people from our community, both the well-established and- just as importantly- those newly arrived in the Bay Area.
The relationships made at the events have enabled many of the community to make new friends and in many cases become each other's peers and mentors, which is something we are delighted to be able to facilitate.
This month our program will be in two parts. We will be joined by Tony Bucher, Director of Hinterland, a Celebration of Irish Culture and Innovation. Hinterland events begin on Friday, November 8th and run through until the 10th at the Mechanics' Library in San Francisco. Tony will give a brief overview of what exciting events and speakers that are lined up for Hinterland.
Our special guest Catherine Flynn, Author of the newly released book, James Joyce and the Matter of Paris. Catherine recovers the paradigmatic city of European urban modernity as the foundational context of Joyce's imaginative consciousness. Beginning with Joyce's underexamined first exile in 1902-03, she shows the significance for his writing of the time he spent in Paris and of a range of French authors whose works inflected his experience of that city. She will discuss her new book with Dr. Michael Lucey, from the French Studies Department at UC Berkeley. Professor Lucey specializes in French literature and culture of the 19th, 20th, and 21st centuries.
We are extremely honored to have the Consulate General of France @FranceinSF, supporting our speaker series this morning.
We look forward to seeing you again at your Consulate where you are always very welcome!
Ticket sales will close November 7th at 5pm. 
Please bring a valid photo ID to present at reception on arrival. 
Space is limited. If you register and are unable to attend, please send a courtesy note to EventsSF@dfa.ie so that we may accommodate others.
Please contact Noeleen Pattison, Communications and Public Affairs Officer, if you would like to promote an event that is relevant to the breakfast audience.
SIGN UP FOR OUR NEWSLETTER AND FUTURE EVENTS HERE!
Twitter & Instagram: @IrelandinSF  #IrelandinSF or go to our WEBSITE
Related Events

     CALENDAR SPONSORED BY THE CONSULATE GENERAL OF IRELAND, SAN FRANCISCO