ILHS Speaker Series on Aviation Pioneer Daniel Maloney
February 24 @ 5:00 pm

-

6:30 pm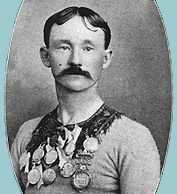 Evelyn Rose, Project Director and Founder of the Glen Park Neighborhoods History Project, will share the amazing life story of Irish American San Francisco aviation pioneer Daniel John Maloney, ancestor of a well-known family in Noe Valley.  He began his career as an aeronaut performing at the pleasuring grounds known as Glen Park and the Mission Zoo.
We'll learn more about Maloney's transition from Victorian extreme sport athlete to test pilot in the early days of flight discovery. We'll also be introduced to Professor John J. Montgomery of Santa Clara College (today's Santa Clara University), a graduate of San Francisco's St. Ignatius College.  Montgomery's flight innovations and achievements have largely been erased from mainstream history, primarily through the gaslighting efforts by no less than the Wright Brothers and their supporters.
Evelyn Rose, PharmD, moved to San Francisco in 1978 and has been a resident of Glen Park and Diamond Heights for nearly 30 years.  She founded the Glen Park Neighborhoods History Project, www.GlenParkHistory.org in 2014.  This event is free for members and $5 for non-members.
Related Events

     CALENDAR SPONSORED BY THE CONSULATE GENERAL OF IRELAND, SAN FRANCISCO