Fundraising Day at United Irish Cultural Center
Sunday, September 20th @ 11:00 am

-

4:00 pm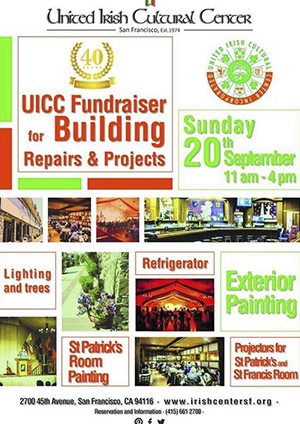 As the UICC celebrates 40 years, supporters are looking at necessary repairs and improvements to the building and facilities.
On Sunday 20th September efforts begin with a very special Fundraising Day of activities for all ages: Silent auctions, video horse racing, a children's play area in the parking lot, live entertainment and delicious food.
Click to donate directly
The United Irish Cultural Center is a California nonprofit corporation organized to provide the San Francisco Irish-American community and UICC members with beautiful dining and banquet facilities for social, recreational, athletic and cultural activities. Many functions are hosted in the Saint Patrick Ballroom and the St. Francis Room, including cherished weekly set dancing events and frequent concerts of live music, art shows, and many more events celebrating and supporting Irish culture in the Bay Area.
Related Events

     CALENDAR SPONSORED BY THE CONSULATE GENERAL OF IRELAND, SAN FRANCISCO