Europe Day: A Conversation with Irish MEP Frances Fitzgerald
May 10 @ 12:00 pm

-

1:00 pm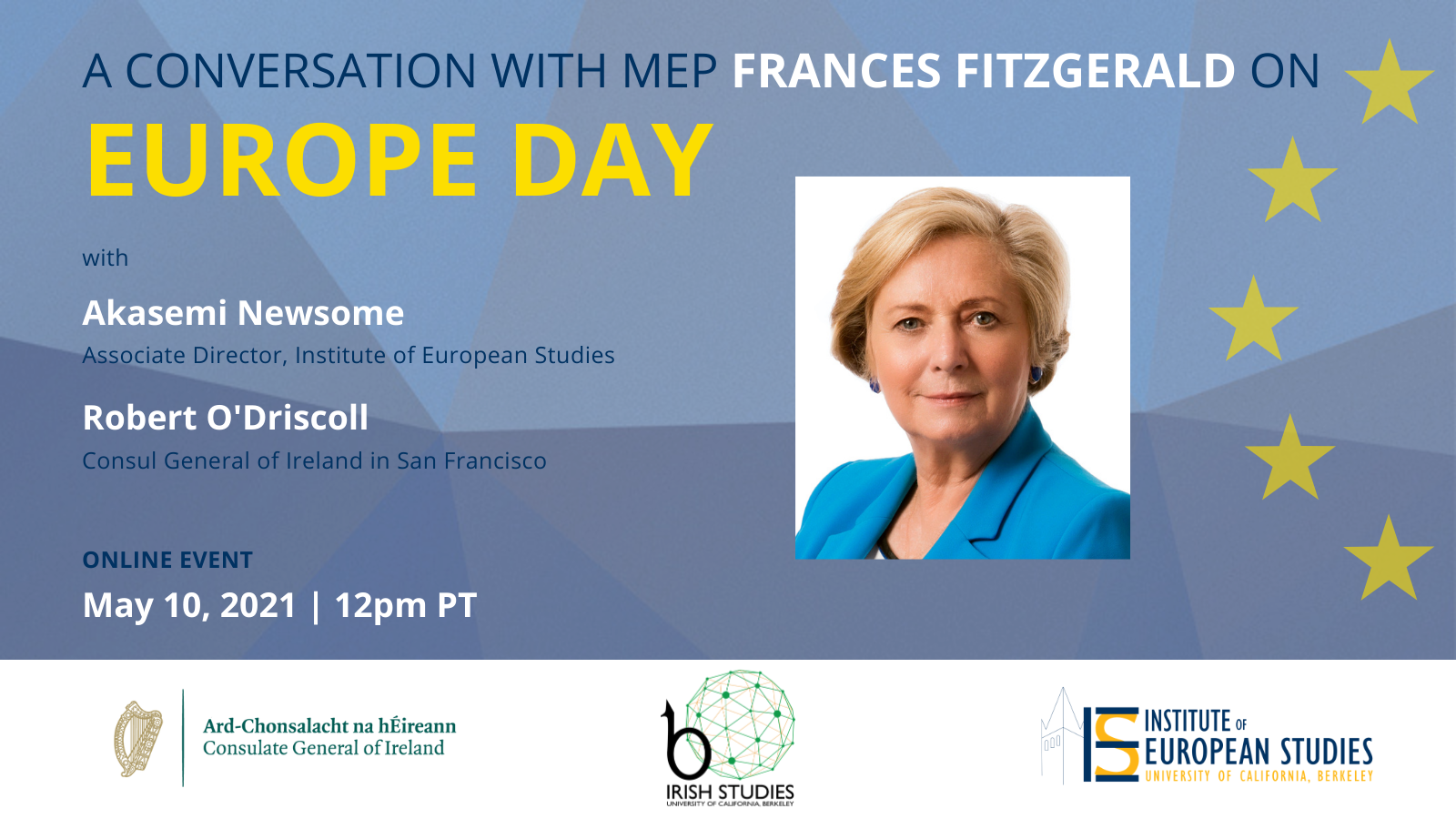 The European Union celebrates Europe Day on 9 May. The date marks the anniversary of the "Schuman Declaration" of 1950, considered to be the first official step in the creation of what is now the European Union. On that occasion, Robert Schuman, the then French foreign minister, set out his idea for peace, unity, and political cooperation in Europe.
To celebrate Europe Day, IES and the Irish Studies Program are pleased to host a conversation with Irish MEP Frances Fitzgerald. The discussion offers a chance to reflect on the challenges Europe is currently facing, in the wake of the COVID-19 pandemic, as well as the common heritage and values shared across the continent.
MEP Fitzgerald is joined in conversation by IES Associate Director Akasemi Newsome, and Robert O'Driscoll, Consul General of Ireland in San Francisco.
Frances Fitzgerald is an Irish MEP from Dublin. A parliamentarian for over 20 years, she served as Tánaiste (Deputy Prime Minister) from 2016-17, one of only four women to have ever held this position. She has also served as Minister for Business, Enterprise & Innovation (2017); Minister for Justice & Equality (2014-17) and was the State's first Minister for Children & Youth Affairs (2011-14). Prior to her election to the Dáil (Irish Parliament), Frances served as Chair of the National Women's Council of Ireland (1988-92) and Vice President of the European Women's Lobby. Frances was elected to the European Parliament in 2019. She is a full member of the Women's Rights and Gender Equality Committee (FEMM) and the Economic and Monetary Affairs Committee (ECON) and a substitute member of the Development Committee (DEVE) and the Committee on Foreign Interference in all Democratic Processes in the European Union, including Disinformation (INGE). Frances was elected Vice Chair of the EPP Group in March 2021, and EPP Coordinator of the FEMM Committee in July 2019.
Related Events

     CALENDAR SPONSORED BY THE CONSULATE GENERAL OF IRELAND, SAN FRANCISCO