Douglas Hyde in California
Thursday, October 17th @ 5:00 pm

-

7:00 pm

Free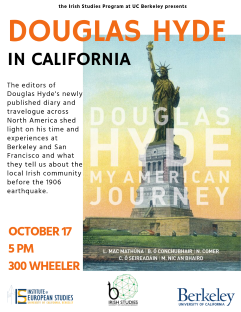 To mark the release of the new edition of "Douglas Hyde: My American Journey," the editors of Douglas Hyde's newly published diary and travelogue across North America shed light on his time and experiences at Berkeley and San Francisco and what they tell us about the local Irish community before the 1906 earthquake.
About the book:
First published in Irish in 1937, Douglas Hyde's diary and travelogue is a compelling first-hand account of his eight-month odyssey through the United States from 1905 to 1906.
Hyde's work on this fundraising tour, undertaken on behalf of the Gaelic League, was both culturally and politically vital. The finances he raised contributed to the hiring and training of Irish-language teachers and organizers who traveled across Ireland spreading the Gaelic League message. The funds sustained the cultural revolution, which, in turn, gave rise to the political uprising from which Irish sovereignty would ultimately flow. During the tour, Hyde gave four public lectures at UC Berkeley and became friendly with Ide Wheeler and several of the German faculty on campus.
With an introduction by President Michael D. Higgins, and punctuated with entertaining pen pictures of prominent figures in US history (including President Theodore Roosevelt), this study recounts an important part in the life of one of Ireland's most under-appreciated leaders and captures an Ireland on the very brink of seismic change.
About the editors:
Liam Mac Mathúna is Professor Emeritus of Irish at University College Dublin, where he was Head of the School of Irish, Celtic Studies, Irish Folklore and Linguistics, 2006 – 2013.
Brian Ó Conchubhair is Associate Professor of Irish Language and Literature, and a Fellow of the Keough-Naughton Institute for Irish Studies at the University of Notre Dame.
Niall Comer is lecturer in Irish at Ulster University and President of Conradh na Gaeilge.
Cuan Ó Seireadáin is Curator at Conradh na Gaeilge and Project Director of the Douglas Hyde Foundation.
Máire Nic an Bhaird is lecturer in Irish Language and Literature in the Froebel Department, Maynooth University.
Related Events

     CALENDAR SPONSORED BY THE CONSULATE GENERAL OF IRELAND, SAN FRANCISCO