Derek Warfield & The Young Wolfe Tones at Irish Center SF (Big Hall Upstairs)
November 13 @ 7:00 pm

-

11:00 pm

$35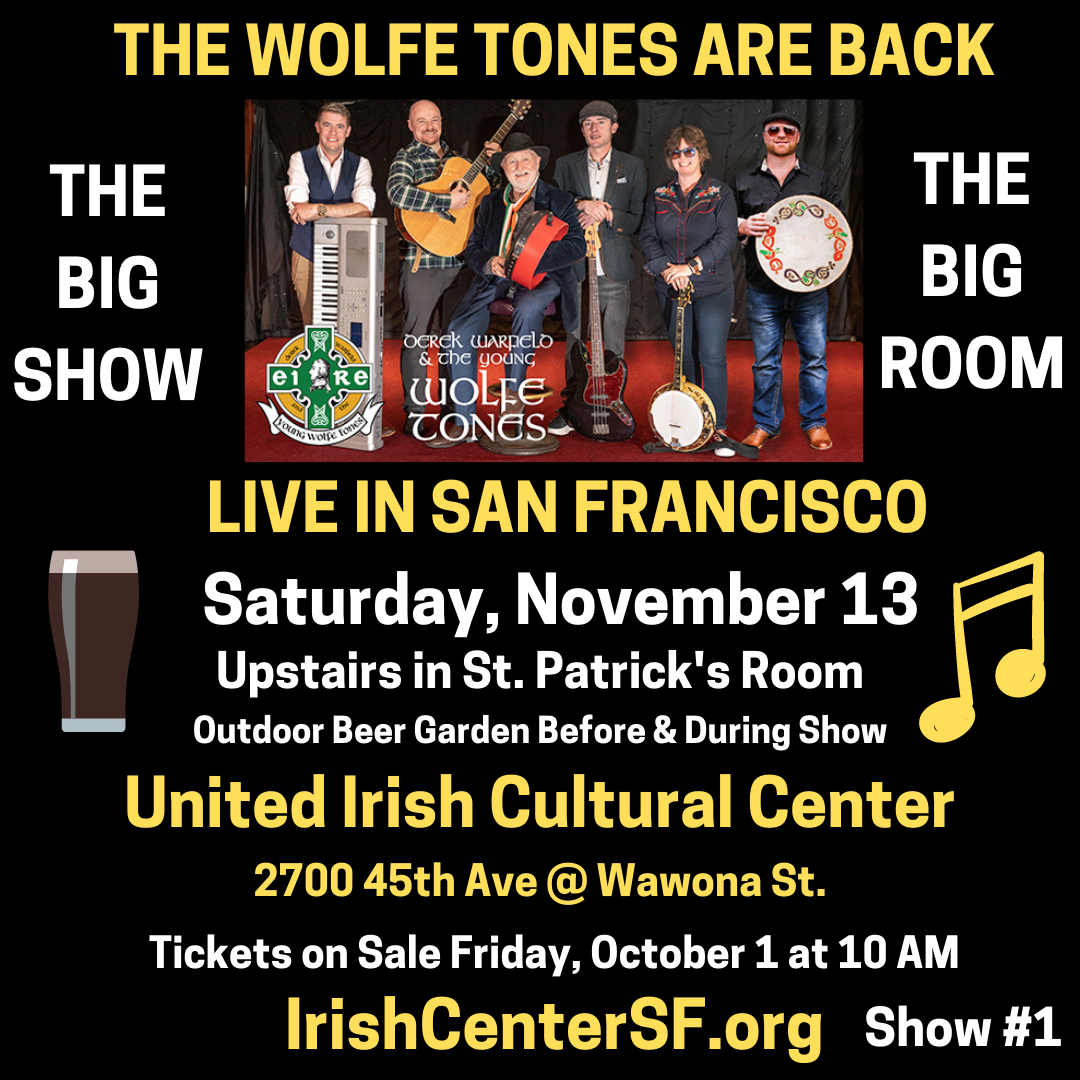 A special group of Irish men and women have been responsible for the preservation of the tradition of Irish ballad singing over the past 50 years. Derek Warfield is a distinguished name among them.  Come see Mr. Warfield, as he surrounds himself with some of Ireland's finest musicians and singers.
We hope you will join us for the glorious return of Derek Warfield & The Young Wolfe Tones (https://www.theyoungwolfetones.com) for two nights at the UICC in San Francisco in November 2021.   We expect both shows to sell out.  The shows are open to the public, but Active UICC Members and children will be eligible for discounts at both shows.
Show #1: Saturday, Nov 13 night show will take place upstairs in the St. Patrick's Room, bringing together generations of music fans in one location.   The baseline price for Nov 13, is $45 for adults, but early bird pricing is $35 for general admission and $30 for Active UICC members. There is an additional $2/ticket fee.
Show #2: The Sunday, Nov 14 show will take place downstairs "unplugged" in the Emerald Room at 4 PM, providing an up-close and personal performance by the band. This show is a fundraiser for the UICC, to help with operating costs and fund cultural programs.  The band will set up on the old dining floor, making the original pub, Emerald floor, and Members room all great places to see an up-close and personal show. The Sunday, Nov 14 show will have special perks for active UICC members, including access to the Members room for free beer/wine/appetizers, so you may want to join or bring your UICC Membership up to date at 
https://irishcentersf.org/membership/
The baseline price for this unique show is $75 for adults, and Active UICC members get a $10 discount. There is an additional $2/ticket fee.
Children's tickets are available at deep discounts for both shows.
The United Irish Cultural Center, Inc. is a 501(c)3* non-profit corporation in the City and County of San Francisco, and all net proceeds help fund the cultural programs at the UICC.
Related Events

     CALENDAR SPONSORED BY THE CONSULATE GENERAL OF IRELAND, SAN FRANCISCO