Four Shillings Short Celtic Concert, Berkeley
Saturday, December 1st @ 8:00 pm

-

11:00 pm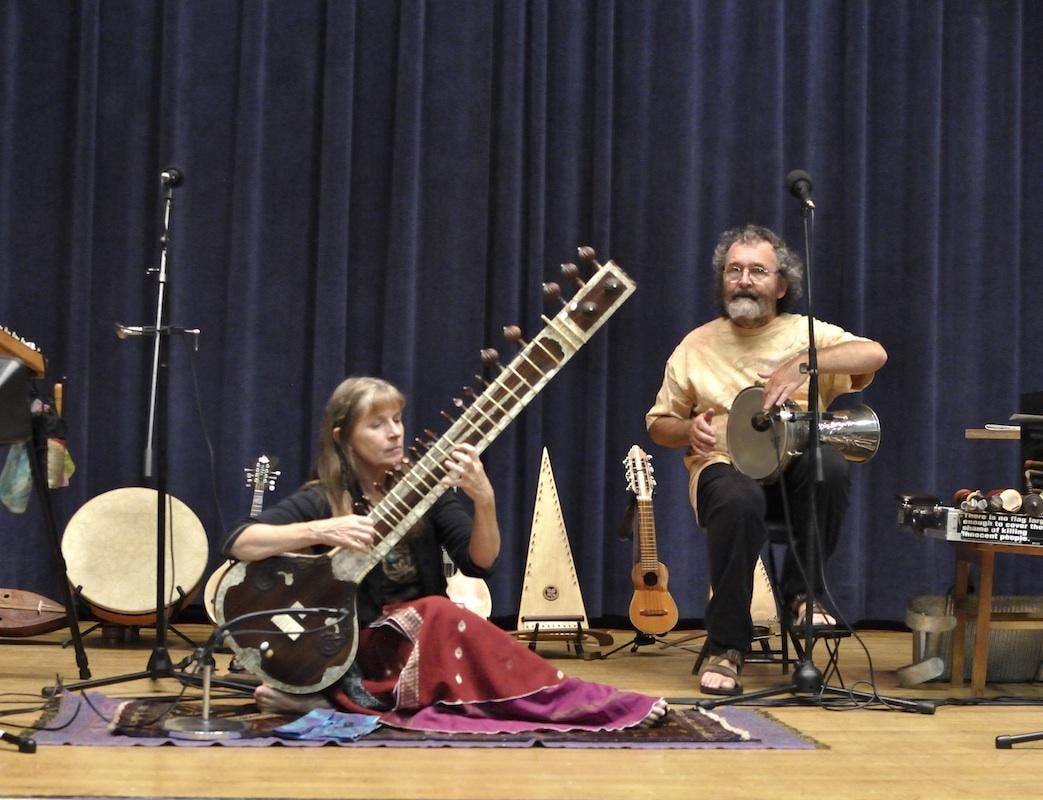 The Celtic/Folk/World music duo Four Shillings Short present a special Celtic Winter Concert featuring music, poetry and stories from the Celtic & World music traditions to celebrate the Season.
Four Shillings Short is the husband/wife duo of Aodh Og O'Tuama from Cork, Ireland and Christy Martin from California. They perform traditional and original music from the Celtic lands, Medieval & Renaissance Europe, India and the Americas on a fantastic array of instruments (over 30), including Hammered & Mountain Dulcimer, Mandolin, Mandola, Bouzouki, Tinwhistles, Recorders, Medieval and Renaissance Woodwinds, North Indian Sitar, Charango, Bowed Psaltery, Banjo, Bodhran, Guitar, Percussion, vocals and even a Krumhorn.
Touring in the US & Ireland since 1997, Four Shillings Short are independent folk artists who perform 150 concerts a year, have released 12 recordings, and live as full-time troubadours traveling from town to town performing at music festivals, theaters & performing arts centers, folk societies, libraries, house concerts and schools.
Aodh Og O'Tuama grew up in a family of poets, musicians and writers. He received his degree in Music from University College Cork, Ireland and received a Fellowship from Stanford University in California in Medieval and Renaissance performance. He plays tin whistles, Medieval & Renaissance woodwinds, recorders, Doumbek (from Morocco), bowed Psaltery, spoons and sings in English, Gaelic & French.
Christy Martin grew up in a family of musicians and dancers. From the age of 15, she studied North Indian sitar for 10 years, five of them with a student of master sitarist Ravi Shankar. She began playing the hammered dulcimer in her 20's and has studied with Maggie Sansone, Dan Duggan, Cliff Moses, Robin Petrie, Tony Elman and Glen Morgan. In addition she plays mandolin, mandola, bouzouki, banjo, guitar, bodhran (Irish frame drum), ccharango, bowed Psaltery and sings in English, Irish, and Sanskrit.
WHAT FOLKS SAY ABOUT FOUR SHILLINGS SHORT:
"Sunday night's concert featured a husband and wife duo called Four Shillings Short. They are astounding. They both have wonderful singing voices. They play an incredible variety of music from Indian Ragas to Celtic, Traditional folk and about anything else you can think of. They are very charismatic with great stage presence." – Columbus Folk Music Society, OH
"Their musical virtuosity makes old songs sound new and new songs sound like time-worn Celtic spells." – CITY PAGES, Wausau WI
"They are not the Clancy Brothers or Jean Richie or Ravi Shankar, but a combination of all three, laced with Irish humor. Their collection of instruments is museum-like and I've never seen the place so packed." – San Gregorio General Store, CA 2005
"Four Shillings Short, celto-indo fusion duo, is a world class act." – Late Night Liz/KMFB, Fort Bragg, CA 2012
"Four Shillings Short takes you on a musical journey through time and across the seas as they perform everything from traditional Irish tunes and airs to Indian Ragas." – The Foothills Sun-Gazette, Exeter, CA 2010
"A husband-and-wife duo of mystical musical abilities. Their sound is haunting, crystalline beauty." – Monterey County Weekly, Monterey, CA 2010
"The Celtic/Folk/World music duo performs on a bevy of unusual instruments and in myriad styles. This is a great show for kids of all ages, who'll be amazed by the duo's thematic range." – Glen Starkey, New Times, San Luis Obispo, CA 2010
Tickets are $15 general admission, $10 for students with ID and limited income, kids 16 + under free w/adult. Advance tickets are available at the link below, or you may purchase your tickets at the door the night of the show. Doors open one half hour before show time. We accept cash only at the door (ATMs are nearby). 
The Back Room is an all-ages, BYOB (for those 21+) space, dedicated to (mostly) acoustic music of all kinds. You are welcome to bring your own adult beverage with no additional corkage fee. If you need more information or have any questions, please call us: #510-654-3808. Thank you for your support!

     CALENDAR SPONSORED BY THE CONSULATE GENERAL OF IRELAND, SAN FRANCISCO