Irish Night at the San Jose Sharks • Mar 28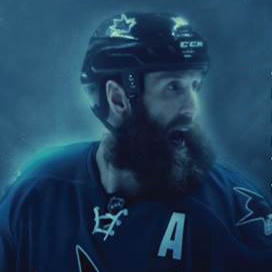 **Irish Heritage Night at Sharks • March 28**
==========
The San Jose Sharks host Dublin Lord Mayor, Brendan Carr at the March 28 game. Use promo code IRISH to access your ticket and postgame Irish Heritage Night center activities. more…
---
GAA Dinner Dance • January 20
SFGAA Annual Dinner Dance will be hosted on Friday the 20th of January 2017, at the UICC from 7pm till late. Special Guest: The Liam McCarthy Cup accompanied by Tipperary great Brendan Cummins. 2016 SFGAA Hall of Fame inductees will be Tom Hunt and Linda Ryan.
Tickets $100, contact Bertie Penny or any SFGAA Board Member for tickets.
$20 Raffle Tickets also available; 1st Prize 2 Aer Lingus Roundtrip Flights to Ireland, 2nd Prize 2 Night Stay at Napa Marriott, and many other prizes to be raffled off on the night.
Celebrate the season end of 2016 and the beginning of the 2017 SFGAA year. more
---
---
GAA on Big Screen •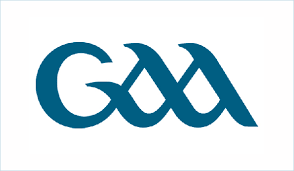 Sunday, September 25, 2016
8:00am GAA All-Ireland Ladies Senior Football Championship Final:
Dublin vs Cork
$20.00. Children free. United Irish Cultural Center, 2700 45th Ave., San Francisco.
2016 GAA All Ireland Senior Championship games shown Sundays on the big screen at the UICC. GAA Site
Gaelic Game screenings at the UICC are made possible by volunteer labor. You can help to keep the games going by volunteering for one or two games this year. Please contact Martin Falvey at 1 650 455-0504.
---
Irish Heritage Night at The Giants

Join the Irish community for a San Francisco Giants versus Pittsburgh Pirates game on Monday, August 15, 2016.
The American Ireland Fund San Francisco Young Leaders – Pre-game reception at Momo's, 760 2nd Street.
buy tickets
Irish Immigration Pastoral Center buy tickets
---
Conor McGregor Vs Nate Diaz • August 20

Current Ultimate Fighting Championship (UFC) Featherweight champion Conor McGregor will meet Nate Diaz once again at UFC 202 on August 20. UFC 202 may be the most important fight in McGregor's already legendary career. Check in for scheduling here or at your local pub.

June events
O'Flaherty Charity Golf Tournament • June 25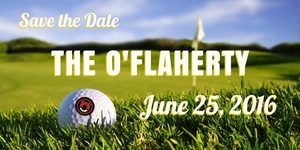 Ray O'Flaherty's passion for education combined with his interest in golf was the inspiration for this South Bay event and continues to drive the event year after year benefiting the Ray O'Flaherty Memorial Scholarship Fund at Bellarmine College Preparatory. The 2016 event is at Summitpointe Golf Club in Milpitas with a shotgun start at 1:00. Players will be able to enter various competitions for prizes such as hole-in-one, longest drive and closest to the pin contests. more
---
---
May events
St Cecilia Irish Classic Golf Tournament • May 13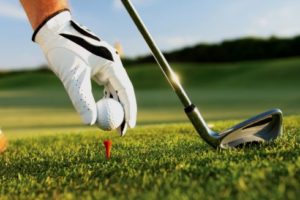 A 9-hole, team scramble format with BBQ at Gleneagles Golf Course, San Francisco. $125
Send names of those in your foursome to Brian Burnett by email or call at 415-609-2677 more
April events
Irish Heritage Night at AT&T Park • April 25

Join The Irish Immigration Pastoral Center for Giants versus Padres baseball game on Monday April 25th 2016 at 7.15pm. Special Event ticket package includes a seat in one of the Irish Heritage sections for the Monday evening game, with admission to the Irish Heritage Night pre-game party in Seals Plaza from 5-7 p.m. more
March events
Rugby Six Nations • March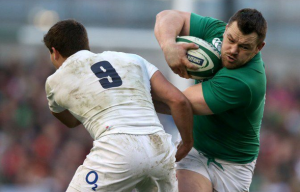 Catch the Rugby Six Nations games at your local Irish sports bar.
Sat 19 Mar • Wales v Italy, Principality Stadium
Sat 19 Mar • Ireland v Scotland, Aviva Stadium
Sat 19 Mar • France v England, Stade de France
more
St. Patrick's with the Quakes • Mar 13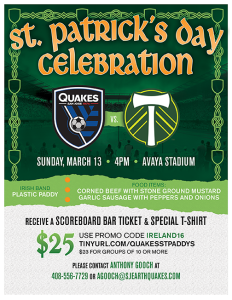 Discounted tickets available for St. Patrick's Day celebration at San Jose Earthquakes. Use code ireland16 for tickets
January events
Kerry Dinner Dance • Jan 30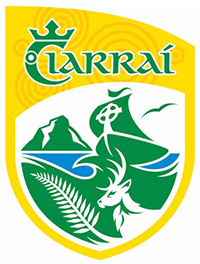 (event has passed) Kerry Athletic Club and Sons of Boru hold their 54th Annual Dinner Dance honoring Brian Reilly as "Man of The Year". Special guest, DJ Curtin and music by Kevin Roche Band. United Irish Cultural Center, SF at 7pm
---
Superbowl 50 • Feb 7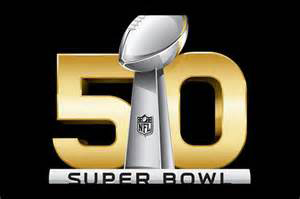 Watch this year's Superbowl at your local Irish sports bar, or join the United Irish Cultural Center party and watch on two new 60″ plus TVs, enjoy some great hors d'oeuvres and sample some Moylan's Brewery beers.
---
December events
Fighting: Conor McGregor v Jose Aldo Dec 12
The Ultimate Fighting Championship, UFC, says MGM Resorts officials "moved Heaven and Earth" to allow the company to put the featherweight title unification bout between champion Jose Aldo and interim champion Conor McGregor at the MGM Grand Garden in Las Vegas on Dec. 12. Now you can watch the game at a local pub near you. St. Stephen's Green in Mountain View will be showing this featherweight title fight on the big screen. Ireland's Conor McGregor takes on Jose Aldo in this much awaited fight.
---
St. Joseph's GAA Golf Fundraiser • December 12

Please help support St. Joseph's GAA at Palo Alto Golf Club. All welcome and BBQ to follow. $100 per player, $50 for BBQ only. more information or for information send email
---
Meet Camogie Winners at UICC Dinner • December 5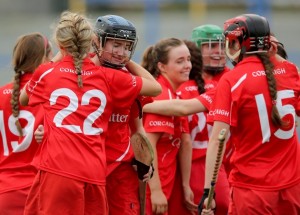 Cork Ladies Camogie Team captain Ashling Thompson and Maeve Cahalane from the All-Ireland winning team 2015 will be special guests at the annual Rebel Corks' dinner December 5th at  at the UICC. See Community Events for more
November Events
Soccer
Euro 2016 Playoffs
Watch European football's premier international competition at an Irish bar near you – visit the official site here
Friday, November 13th @ 11.45am – Sports Euro 2016 Playoff Qualifier Game one: Bosnia v Republic of Ireland …
Monday, November 16th @ 11.45am – Sports Euro 2016 Playoff Qualifier Game two: Republic of Ireland v Bosnia…
Visit Kezar Pub, San Francisco, St. Stephen's Green, Mountain View, The Chieftain, San Francisco, or check out your local Irish sports bar.
---
Waterford Hurlers Golf Fundraiser • November 21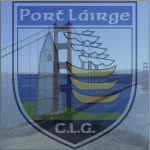 After a successful 2015, Waterford Senior hurlers are now in the strongest position in years, for the Liam McCarthy. The Waterford patriots in San Francisco have invited Dan Shanahan and Pauric Mahony to San Francisco in November to be part of a fundraising effort.
The event will be held Saturday, November 21st at the Metropolitan Golf Links in Oakland with tee-off at 7.30am.
The $150 cost includes two-man scramble and shot gun start, 18 holes of golf, riding cart, lunch and a guaranteed great day. There will be an awards presentation and food and music directly after golf at the Kate O Brien's Irish Bar @ 579 Howard St, San Francisco, CA 94105.
Pre-register by email  today to reserve a spot.
Junior Glens Soccer Association Annual Dinner Dance November 7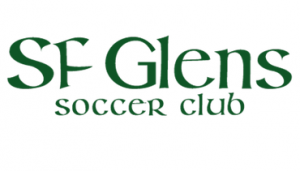 Guest of honor is Liverpool and Ireland Legend, Ray Houghton, with two very special honorees, Fr. Brendan McBride and Joe Cummings. Contact the Glens office for tickets (415) 814-3861 or Michelle by email
The San Francisco Glens is a youth soccer club created to develop youth players in San Francisco and surrounding communities. With several programs designed for all areas of the game, the club serves players of all levels, from players brand new to the game to the top players in the area.  Check out their website for more
---
October Events
Rugby World Cup 2015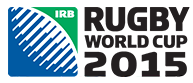 The Rugby World Cup (website) 2015 is the eighth Rugby World Cup, the quadrennial rugby union world championship. The tournament is hosted by England from 18 September to 31 October. Twickenham Stadium in London will host the final. You can watch the games at a Bay Area bar near you, and send your support to the Irish team #ShoulderToShoulder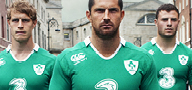 September Events
Ireland Fund Young Leaders Global 5K • Sep 26
The Ireland Fund Young Leaders from around the world will host an event together "The Irish Run the World, a Global 5K race" on September 26, 2015. The event will span over 20hrs, and cover 75km, in 15 different cities and 6 different countries. Starting in Brisbane, Australia, the Young Leaders will run a 5km in their respective city before passing the 'virtual baton' off to the next city. The San Francisco stage takes place at 9:30am at Ocean Beach. The Global 5k will conclude when the last Young Leader crosses the finish line in Los Angeles. All funds raised will go to benefit The Ireland Funds Promising Ireland Campaign to assist worthy charities across the island of Ireland and Irish causes around the world. more info
---
Gaelic Games on Big Screen at UICC • Sep 27

8:00am GAA  Ladies Football All Ireland Final – Cork vs Dublin
Doors Open 15 minutes before first match. $20.00 at the door
Children free. Special All-Ireland football buffet breakfast served in the restaurant from 9 a.m. Bar opens after Senior match.
UICC, 2700 45th Ave., San Francisco
See right for list of all local Bay Area GAA clubs
---
August Events
Final GAA Summer Camp • August 17 -21
Camp takes place at Murray Field, 250 Anza Blvd, Burlingame 9am – 3pm. Online registration
Irish Night at the Giants • August 11
In Community Partnership with the Irish Immigration Pastoral Center.
The Giants are proud to announce that for yet another year, Irish Heritage Night returns for a second installment of the season! Your Special Event ticket package includes a seat in one of the Irish Heritage sections for interleague matchup versus the Astros, admission to the pre-game Irish party in Seals Plaza from 5:00 p.m.-7:00 p.m., featuring cultural food and drink specials available for purchase, as well as a limited-edition Irish-themed Giants messenger bag. Cultural performers will be on display at the pre-game festival in Seals Plaza and on the field prior to the game, and partial ticket proceeds will benefit local Irish charities. Don't miss one of the season's most popular events! tickets
---
July Events
---
Irish Golf Tournament • July 24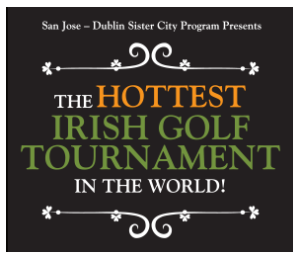 The San Jose Dublin Sister Cities Program hosts its 2015 Irish Golf Tournament at Los Lagos Golf Course in San Jose on July 24. Check out the video.
Whether you're a top golfer or just starting out, sign up and enjoy: 18 holes of golf with cart; lunch; golf clinic with Los Lagos coach Matt Flenniken; refreshments and events throughout the course; barbeque dinner with reception at the end of the day, prizes, raffle and silent auction.
Proceeds from the golf tournament go to the Pat McMahon Masters Level Scholarship.
Tournament is limited to 120 players, so make reservations early.
June Events
The O'Flaherty 4th Annual Golf Tournament • June 27
The O'Flaherty is a charity golf tournament benefiting the Ray O'Flaherty Educational Scholarship Fund, which is to be held on Saturday, June 27 at Eagle Ridge Golf Club.  The Educational Scholarship Fund, at Bellarmine College Preparatory, was established by the O'Flaherty family after Ray O'Flaherty's passing due to Ray's strong commitment to education and support of molding of young minds. Eagle Ridge Golf Club, Gilroy. 1-4pm. more
GAA Summer Camp, Palo Alto
June 22nd – 26th at Greer Park
9am -1pm
---
May Events
IIPC's 17th Annual Golf Tournament – May 8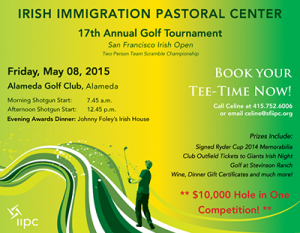 Alameda Golf Club – San Francisco Irish Open
Two Person Team Scramble Championship. Evening Awards Dinner: Johnny Foley's Irish House. Prizes Include: Signed Ryder Cup 2014 Memorabilia; Club Outfield Tickets to Giants Irish Night; Golf at Stevinson Ranch. $10,000 Hole in One Competition. Call or email Celine for more – 415.752.6006 email
---
Harding Park PGA Golf Championships • April 27 – May 3

PGA play of the World Golf Championships Cadillac Match Play is at San Francisco's Harding Park April 27 through May 3, when – among the 64 golfers attending a contingent of 21 millennials will take on veteran champions such as Phil Mikelson and Bubba Watson for the upcoming event with a purse of $9.25 million. Looking at a winning share of $1.57 million, this Millennial roster includes Rory McIlroy, already a four-time major champion from Northern Ireland, currently number one in the Official World Golf Rankings at just 25 years of age. more
---

Irish Soccer Women's National Team play USA • May 10
The Republic of Ireland Women's National Team will play USA in San Jose on Sunday May 10th (and Haiti next week in Lauderhill, Florida.) more
---
 Na Fianna Annual Golf Fundraiser – May 16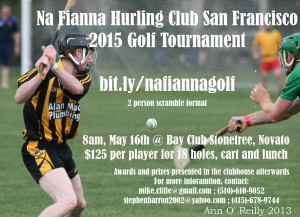 Join Na Fianna hurling club's annual fundraiser golf tournament at the Stonetree course in Novato, CA. Entry into the tournament is $125, or $500 for a team of 4 players. Visit Na Fianna, or reserve your spot via email
---
April Events
Irish Heritage Night – Golden State Warriors April 2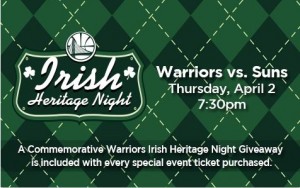 The Irish Immigration Pastoral Center invites you to bring your family and friends out to Irish Heritage Night and cheer on the Warriors as they take on the Phoenix Suns on Thursday, April 2nd, 2015. It promises to be a great evening with in-game cultural performances by Whelan-Kennelly Academy of Irish Dance and others! See calendar April 2 listing for more
---
Irish Heritage Night – Giants Vs Diamondbacks April 16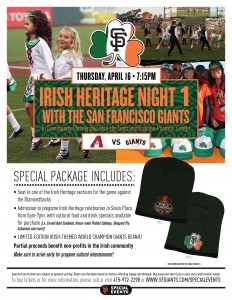 The Irish Immigration Pastoral Center & the San Francisco Giants invite you to 2015's first installment of the always popular Irish Heritage Night, Giants versus Diamondbacks.
Special Event ticket package includes a seat in one of the Irish Heritage sections for the Thursday evening game, with admission to the Irish Heritage Night pre-game party in Seals Plaza from 5-7 p.m., featuring cultural food and drink specials available for purchase! See calendar April 16 listing for more.
---
San Francisco City FC and Cal FC
San Francisco City FC and Cal FC kicked off the 2015 edition of the Lamar Hunt U.S. Open Cup in April in front of a record crowd of 1,519, at historic Kezar Stadium for a preliminary round game in the competition. read report.