September events
Irish Language Immersion Weekend • September 23-25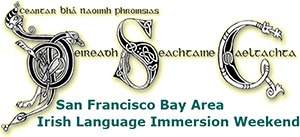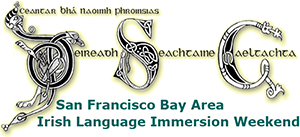 The 18th Irish Language Immersion Weekend, Deireadh Seachtaine Gaeltachta, takes place in San Francisco on September 23–25, 2016. website
Four levels, intensive tutorials that focus on spoken language and increasing fluency taught by top caliber native Irish speaking teachers: Ray Mac Mánais, Liam Ó Cuinneagáin, Seosamhín Nic Rabhartaigh and Bairbre Ní Chiardha. See teacher bios here.
Special Saturday workshops take place during the last class period of the day, providing a relaxing, entertaining and different way to enjoy learning Irish. Meals and snacks provided, and sessions take place each evening with Irish music, songs, poetry, stories – and some dancing.
Class Levels
Level 1⁄ Leibhéal 1 (no Irish, or a smidgin), for absolute beginners, and those who may have made a start already, but are still learning beginner basics.
Level 2⁄ Leibhéal 2 (lag), for intermediate learners, who've studied Irish enough to know the basics reasonably well, can participate in a very simple communications, and want to increase their skills.
Level 3⁄ Leibhéal 3 (sásúil), for higher intermediate students who may understand or read a good bit of Irish, yet lack practice with hearing or speaking Irish, and seek confidence to make the leap into more conversation.
Level 4⁄ Leibhéal 4 (maith) do dhaoine ar mhaith leo snas a chur ar a gcuid Gaeilge. Déanfar staidéar ar fhoclóir nua-aimseartha, saibhreas na teanga, litríocht, filíocht, béaloideas agus an saol chomh-aimseartha.
Beidh Ray Mac Mánais againn mar múinteoir arís!
Classes take place at the United Irish Cultural Center (UICC) in San Francisco. Visit website, for more information, or call Nikki at 510-881-0285, or email
---
May events
Celebration of the Irish Goddess Maeve/Medb • May 24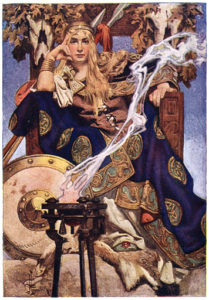 Celebrate Maeve/Medb Irish Goddess of Sovereignty, war, love/sexuality, & magic. Daughters of the Goddess is a Aloha Dianic womyn-only Goddess Temple dedicated to honoring Multicultural Goddesses through rituals and celebrating ceremonies of Womyn's Mysteries in the Spirit of Aloha. more 
---
History, Culture, Legend of The Celts • May 6, 7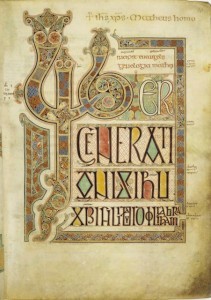 Two days of events at Marines' Memorial, SF.
From Galatia in modern Turkey to Galicia in northwest Spain, Celtic peoples dominated pre-Roman Europe, a Celtic past evoked in such place names as Paris, Vienna, and Edinburgh. Celtic culture outlasted Roman military rule and generated a rich archive of art (metal and textiles), religious and cultural traditions, and legends that inspired epic and lyric poetry in Europe's successor languages. Some Celtic polities (Wales, Brittany) were absorbed into larger national units only in the late medieval period, and Celtic cultural identity remains strong wherever Celtic languages are spoken.
The "Romantic Nationalism" of the 18th and 19th centuries rediscovered Europe's Celtic past and is the spiritual ancestor of contemporary independence movements (Scotland, Catalonia) that look to early modern Europe's smaller polities. Since the 18th century Celtic musical and literary contributions to the European culture have been notable—from Thomas Moore, the Bard of Erin, to Seamus Heaney.
In collaboration with the UC Celtic Colloquium and the UC Berkeley Celtic Studies Program
Friday, May 6, 2016, 7:30-9:30 pm
The Celtic World / Daniel Melia (UC Berkeley). Did the druids really burn people in giant wicker statues? Did the Celts worship a mother-goddess? Did they worship trees? Did the Celts build Stonehenge? Was Britain Rome's Vietnam? Who were these Celts anyway (or were they Kelts)? Where did they come from? And how do we know about them, since they left no substantial written records before the introduction of Christianity in the late Roman Empire? Fortunately, the combination of historical records from the Classical world, modern archaeology, and the discipline of historical linguistics allows us to present a surprisingly full picture of the history of Celtic languages and culture in Europe, though, to be sure, many areas of controversy still remain.
Performance: Patrick Ball presents O'Carolan's Farewell to Music. Ireland in the 17th and 18th centuries was a troubled, tumultuous place. The old Gaelic order had been shattered by the English, and the poets, the bards and the harp players were set walking the roads. Yet, this dark period of Irish history produced a Celtic harper and composer of such brilliance, grace and character that he is, to this day, regarded as his country's greatest and most beloved musician—Turlough O'Carolan. Conceived and performed by Patrick Ball, and written by Patrick Ball and Peter Glazer, this one-person musical theater piece brings to the stage the legendary life, the turbulent times and the captivating music of this most celebrated Irish artist. 
Saturday, May 7, 2016, 10:00 am-4:00 pm
Celtic Storytellers and their 'Bag of Tricks' Through the Ages / Joseph Falaky Nagy (UCLA). Nagy highlights some of the persistent and recurring themes, story patterns, and narrative motifs to be found in medieval Irish and Welsh storytelling, from the middle of the first millennium CE to recent times. Among these story elements with their special Celtic "twists," some also to be found disseminated throughout Western European literature of the Middle Ages, are the quest, the love triangle, and serial shape-shifting. Nagy will briefly survey the heroic sagas of the so-called Ulster cycle, some early British reflections of Arthurian legend, and the symbiosis of storyteller and hero in Irish and Scottish Gaelic folktales. Consideration will also be given to the functions of storytelling in Celtic cultures.
From Cats to Rattlebags: Medieval Celtic Scribes and Their Books / Elaine Treharne (Stanford). Many significant manuscripts in Latin, Irish, Welsh and Cornish exist from the Medieval period (c. 600-1500). From The Mabinogion to sermons, drama to great national myths, these manuscripts reveal a great deal about the scribes and artists who produced them. The skill and humor, veneration and scurrilousness of insular authors is found in these glorious writings, connecting the present to the past, and bringing to life the things that mattered most to our Celtic predecessors.
Making Celtic Art: Materials and Meaning from the Iron Age to the Internet / Karen Eileen Overbey (Tufts University). How did Iron Age craftsmen fashion intricate gold torcs and richly decorated battle gear – and why did Celtic warriors wear them? What technologies did the Celts use to create the spirals, animal forms, and rich decoration we still recognize (and recreate) today? How and why did medieval Irish artists adapt interlace, triskeles, and other "Celtic" patterns in manuscripts, stone crosses, and metalwork? What do the materials and motifs of Celtic art across the ages tell us about the people that used them? This lecture focuses on the Insular Celts, the medieval Gaelic culture of Ireland, the Irish Celtic Revival of the 19th and 20th centuries, and the modern Celts of the digital age – and explores the role of making in Celtic art across the ages.
The Celts in Modernist and Contemporary Irish Literature/ Catherine Flynn (UC Berkeley). From W.B. Yeats' visionary Celtic Twilight to James Joyce's taunting "cultic twalette," Professor Flynn's lecture examines strikingly different representations of the Celts in Irish literature in the 19th and 20th centuries. As Irish writers from Yeats to Nuala Ní Dhomhnaill and Seamus Heaney struggle to form an ethos, a national identity and an aesthetics in a shifting political, social and economic landscape, the Celts are reimagined as mystics, craftsmen, hags, and bog bodies. These Celtic figures allow us to understand these writers' changing moods and ambitions as they emulate, mock, dig up and speak to a reanimated past.
Panel Discussion with the Presenters
---
International Congress of Irish Studies • April 22-24
The 4th Annual Conference and 1916 Centennial Commemoration is a weekend long event featuring speaker/jazz performer Melanie O'Reilly Bay Area pianist Frank Martin and several other speakers and panelists. more
---
Donegal Fiddle Workshop • January 23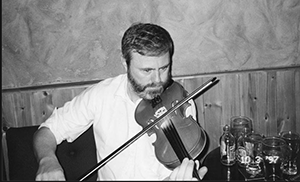 Caoimhin Mac Aoidh – Gryphon Strings Music Shop, 211 Lambert Avenue, Palo Alto, California. Sat, Jan 23rd 11:30am – 3:30pm (includes a negotiated lunch break), $40
In this workshop, you will learn both a number of rare old house dance tunes from Donegal as well as re-examining one of your existing tunes from a Donegal style perspective. Participants should be able to reasonably pick up a tune by ear when taught in a phrase by phrase manner. A simple, new approach to understanding the grammar of traditional Irish tunes will be taught which will aid in learning tunes faster in future. For further info or questions, contact Caoimhin at: [email protected]
Caoimhin Mac Aoidh is a well known fiddler in the Donegal style. He has learned from and played with John Doherty, Francie Dearg O Beirn, Tommy Peoples, Danny Meehan, Danny O'Donnell, the Campbells, Mairead Ni Mhaonaigh, Paul O'Shaughnessy, Dermot McLaughlin and many others in that tradition. He has performed, taught and broadcast extensively throughout Europe and the eastern United States. He has published a number of seminal works on Donegal fiddle playing and is a regular contributor to Fiddler Magazine. In addition to having a great command of the repertoire and technique he is particularly noted for his teaching skills and unique approach to tune assimilation. His new duet CD with Peter Campbell (fiddle) is eagerly awaited in 2016. Caoimhin is the founder of World Fiddle Day.
While the workshop is directed at fiddlers, it is also relevant to mandolin players.
Buy tickets online via Gryphon Strings, orr RSVP to Gryphon Strings: (650) 493-2131
Traveller's Rest: https://youtu.be/NJZUgTu6Q_M
---
---
Deireadh Seachtaine Gaeltachta 2015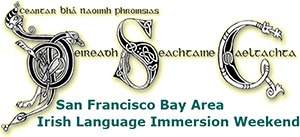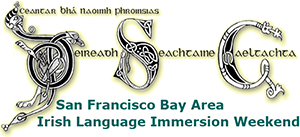 An Irish Language Immersion Weekend will take place the weekend of September 25–27, presenting four levels of intensive tutorials focusing on spoken language and increasing fluency. Practice Irish over breakfast, lunch, and dinner – with meals and snacks provided. Bring instruments & voices for sessions each evening, and enjoy playing music, and sharing songs, poetry, stories, and plenty of craic, as Gaeilge. There will be Saturday afternoon workshops providing a relaxing, entertaining, and different way to enjoy learning and practicing Irish.
The event takes place at the United Irish Cultural Center. Visit the event website for more information, or call 510-881-5958.
Levels:
Leibhéal 1 (no Irish, or a smidgin), for absolute beginners, and those who need to review beginner basics.
Leibhéal 2 for intermediate learners: those who've studied Irish enough to know the basics reasonably well, can participate in a very simple conversation.
Leibhéal 3 for higher intermediate students who understand and read Irish quite well, but lack practice with hearing or speaking Irish, and seek the confidence to make that wild leap into more conversation.
Leibhéal 4 (maith) do dhaoine ar mhaith leo snas a chur ar a gcuid Gaeilge. Déanfar staidéar ar fhoclóir nua-aimseartha, saibhreas na teanga, litríocht, filíocht, béaloideas agus an saol chomh-aimseartha. Tá an t-ádh ars orainn—beidh Ray Mac Mánais againn mar múinteoir!
Course teachers are: Liam Ó Cuinneagáin, Ray Mac Mánais, Seosaimhín Nic Rabhartaigh, Bairbre Ní Chiardha (tuilleadh eolais • more info & teacher bios)
---